PVB automatic glass laminating line
Product Detail
Product Tags
Standard PVB laminated glass production line
| | |
| --- | --- |
| Model | FD-L2500 |
| Machine name | PVB laminated glass production line |
| Brand | FD |
| Process Max. Glass size | 2500x6000mm  |
| Process Min. Glass size | 400x600mm |
| Specification | 2500mm line with 2850x6000mm autoclave |
| Operation system | Siemens PLC |
| Power | 540KW |
| Net weight | 45000KGS |
| Floor space | 63000x8000mm |
| Yield | 400-600 square meter per cycle |
| Origin | China |
| Warranty period | 1 year |
| Heating method | Forced convection |
| Application | Architecture/Decoration/Aerospace/Bulletproof |

ZCKJ-2500A Full-Automatic Laminated Glass Production Line
1. All sections of the line adopt PLC centralized control systerm, frequency control and three HMI interface operations.
2. The special purpose segment is equipped with encoder and servo motor to ensure equipment stability and machining accuracy.
3. High efficiency, energy saving, environmental protection, noise and other special controls shall be considered in the whole line design.
4. The film spreading machine adopts automatic film placing and electric film returning.6 rolls of plastic film lay, easy to operate, easy to replace plastic film.
5. The structure of the initial press is reasonable, easy to operate.The whole machine runs smoothly and reliably, and is centrally controlled by the chip room.The heating area is evenly distributed, and domestic medium-wave infrared heating tube is adopted for heating. The temperature is measured and controlled in the zone, and the maximum temperature is 250℃(adjustable).
6. Adopt mechanical turnover unloading table to unload.
7. The glass autoclave is automatically controlled by PLC and operated by man-machine interface to achieve safety, reliability, high efficiency and energy saving.
8. Except for the monitoring of the operator at the loading and unloading stations, the operation of other lines is fully automatic, realizing intelligent production, reducing personnel risks and production costs.
No

Item

Model

 Remarks

1

Full-automatic mechanical loading station

FDSP25A

double-arm turn-over loading station, running speed: 0-20m/min

2

Glass cleaning and drying

FDQX25A

can clean low-e glass No load operation, energy saving and low noise

3

Side-push positioning conveyor

FDDW25

accurate positioning,




Stack error accuracy ≤ 0.5mm

4

open-close type assembling table.

FDHP25

accurate ,adjustable speed, can adapt to various states of glass assemble.

5

High precision automatic suction hanger

FDGD25A

Automatic moving suction Servo motor control,Precise positioning, no trace on glass, 40-60m /min adjustable speed of .Each suction cup is equipped with an air valve control.

6

Pre-press machine

FDGY25

independent roller press, medium wave infrared heating, three heating sections, (each section is 2 meters).Forced convection cycle




heating.

7

Unloading machine

FDXP25

mechanical unloading glass

8

Autoclave

FD-G2860

forced convection cycle

(inner diameter 2860)

Can produce 2.5MX6 meters of glass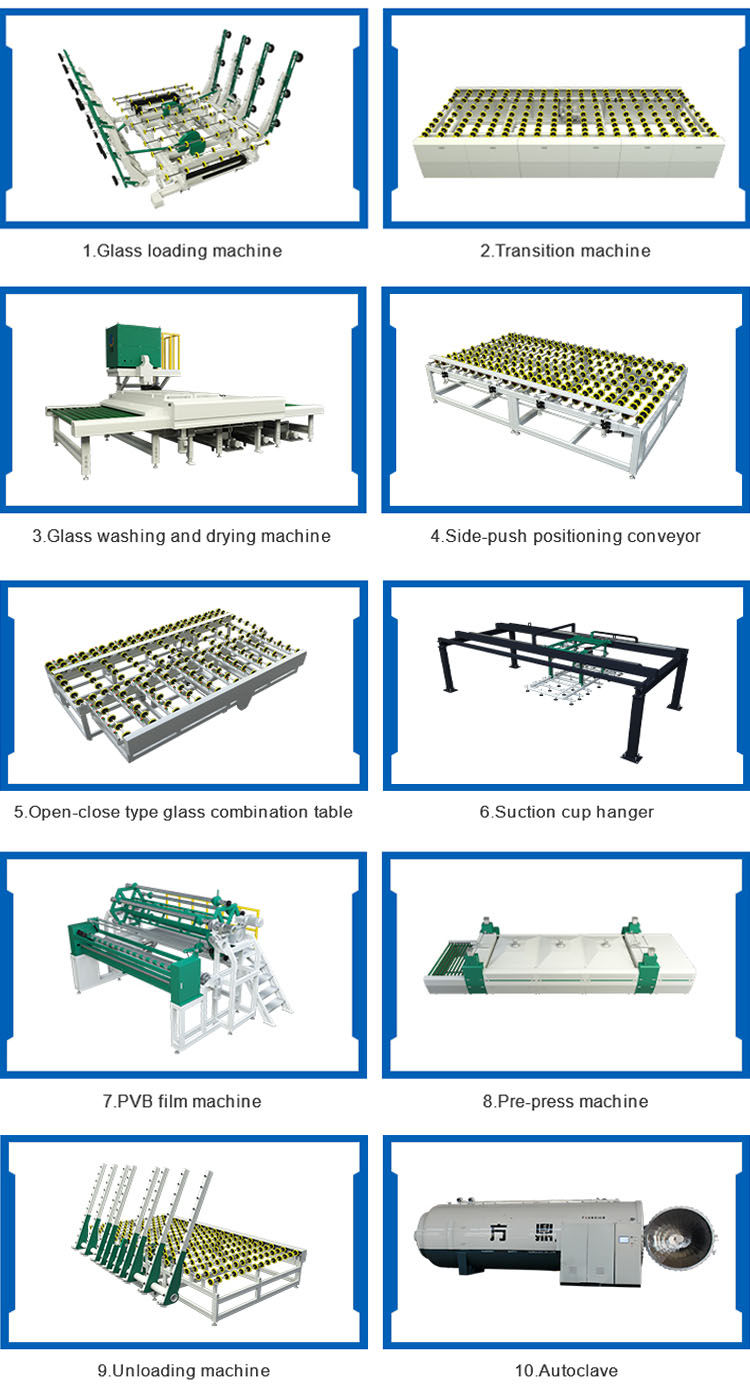 Fangding Technology Co., Ltd is a high-tech enterprise which was founded in October 2003, located in Taoluo industrial park, Donggang district, Rizhao city, covering an area of more than 20,000 square meters, with a registered capital of 100 million yuan, specializing in developing, manufacturing and selling the laminated glass equipment and the interlayer films, the The main products are EVA laminated glass machine, Heat Soak Furnace, Smart PVB  glass laminating line and EVA,TPU,SGP films.
The company participated in the world glass industry well-known exhibitions every year, such as Germany Dusseldorf international glass industry exhibition, China international glass industry technology exhibition, China international window and curtain wall exhibition, Italy Milan international glass industry exhibition, the Middle East (Dubai) international glass exhibition, the United States Atlanta international window and curtain wall exhibition and other exhibitions. During the exhibition, through the on-site processing of the laminated glass ,Fangding presented its unique design style and manufacturing process to the customers!
In the international market, the products has been exported to Asia, Europe, America and other more than 60 countries and regions .Be responsible for the customers and develop together with them!It has laid a solid foundation for enterprises to compete on the international stage.the company has won the trust and praise from the customers all over the world for years.
Workshop & Packing & Shipment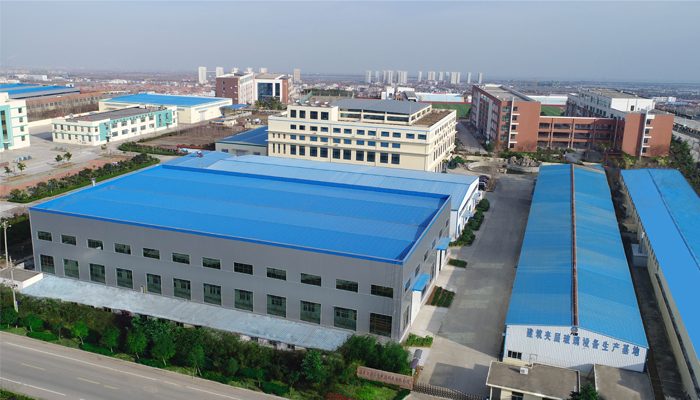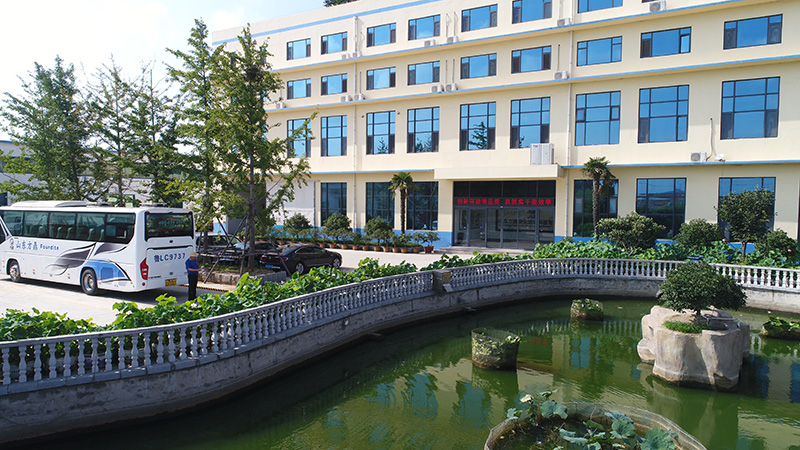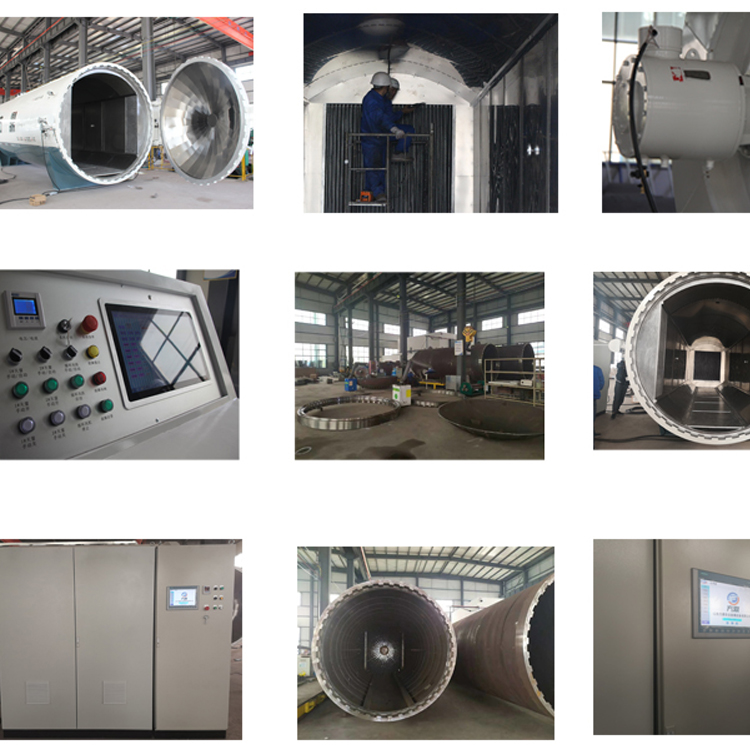 Installation & commissioning
We support online and offline installation services. Customers need to cooperate with the best preparations before installation, such as site, water supply, gas supply, power supply, personnel, etc. We will improve the installation training for customers according to the actual situation.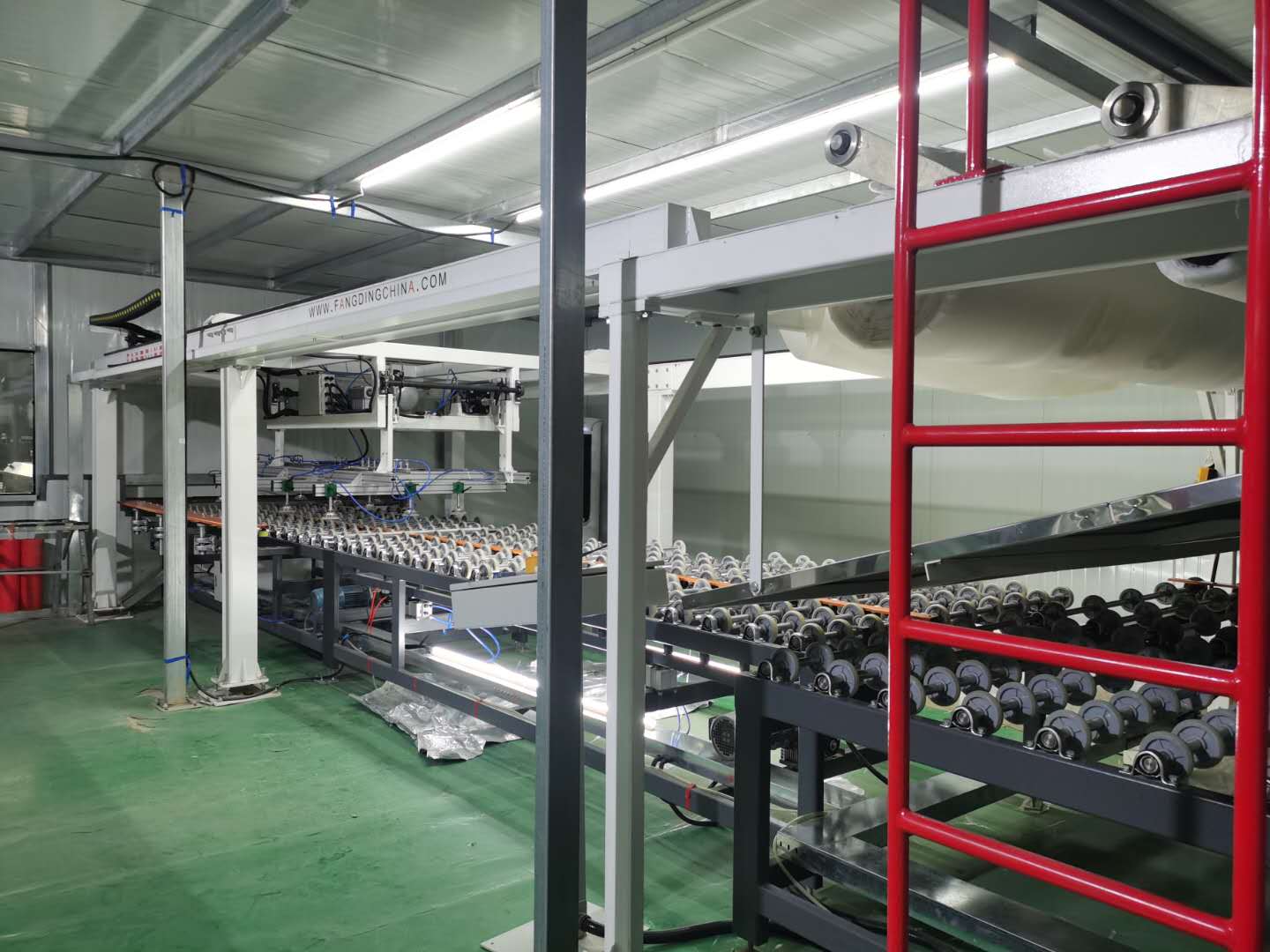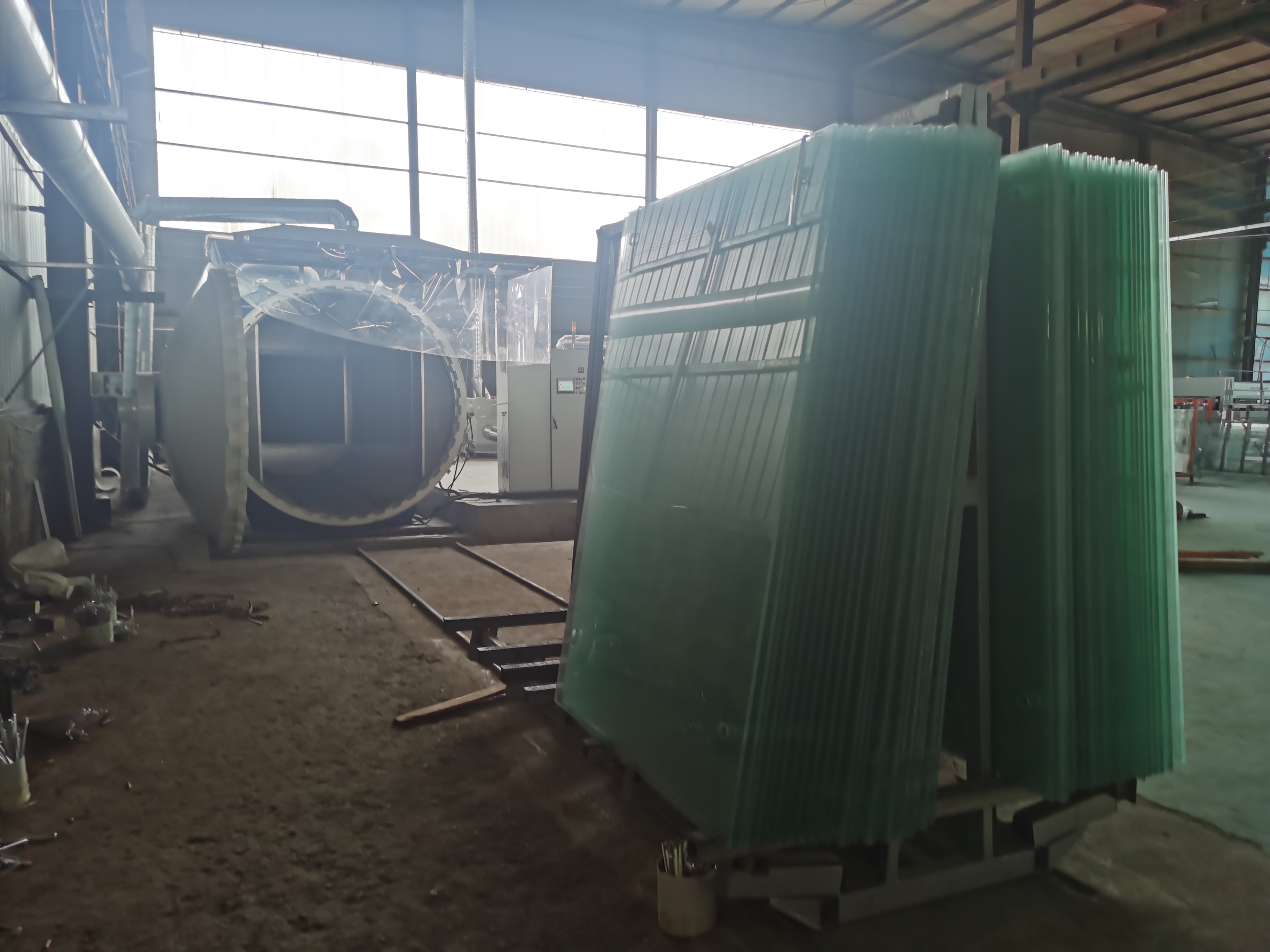 FAQ
Q: Are you manufacturer with your own factory?
A: Yes. We are one of the few manufacturers with a special equipment manufacturing license, the factory covers an area of 20,000 square meters.
Q: Do you accept customized sizes?
A: Yes, we do. We have a professional technology R&D and design team with more than 30 years of experience. We will design the most reasonable plan for you according to your size requirements and field.
Q: How long does it take to complete a cycle?
A: It is determined by the loading rate and product details. It usually takes 4-6 hours.
Q: How about the degree of automation of the production line?
A: We have designed fully automatic and semi-automatic production lines, customers can choose according to their budget and site
Q:If your engineer is available to oversea to install ?
A:Yes, our experienced engineers will come to your factory to install and commissioning the production line, and teach you production experience and operating skills.
Q: What are your payment terms?
A: 30% of the total value is paid by TT, 65% is paid before delivery, and the remaining 5% is paid during installation and commissioning.
Q: How about your after-sale service?
1. 24 hours online, solve your problems at any time.
2. The warranty is one year and the maintenance is lifelong.
---
---