Fangding Machine Process Laminated Glass with EVA/Sgp/TPU Film
Product Detail
Product Tags
Basic Info.
| | |
| --- | --- |
| Model | FD-J--2-2 |
| Machine name | EVA glass lamination machine |
| Process Max. Glass size | 2000x3000mm  |
| Specification | Double layers |
| Operation system | Siemens PLC |
| Power | 33KW |
| Net weight | 2200KGS |
| Dimension | 2600x4000x1150mm |
| Yield | 36 square meter per cycle |
| Origin | China |
| Warranty period | 1 year |
| Heating method | Forced convection |
| Application | Architecture/decorative/PDLC/LED |
Fangding Lamination Machines
Since 2003, Fangding begin producing glass laminating machine, keep improving and inovation, using unique design of heating and vacuum systems, the heating is evenly in the heat box, temperature difference is 3-5 degrees. The glass laminating machine has two heating rooms. Make the production very smart , heating more quickly, saved around 30% engergy comparing to other Chinese machines.
EVA glass laminating machine can produce laminated glass without autoclave.  Besides architecture clear laminated glass, the machine can also work with silk, paper, plastic film, metal mesh, fiber mesh, switchable film and many other materials for indoor decorative application.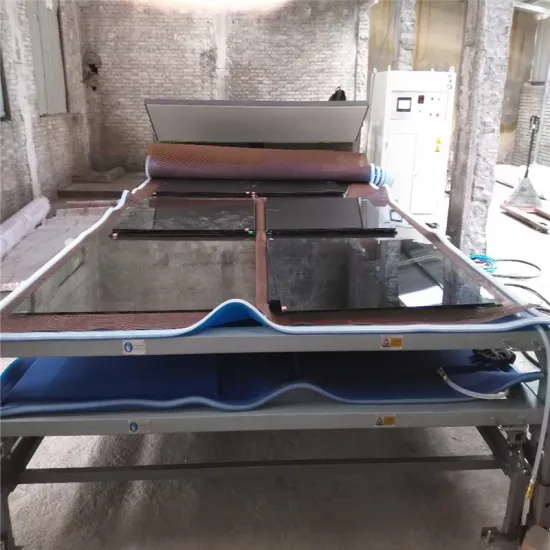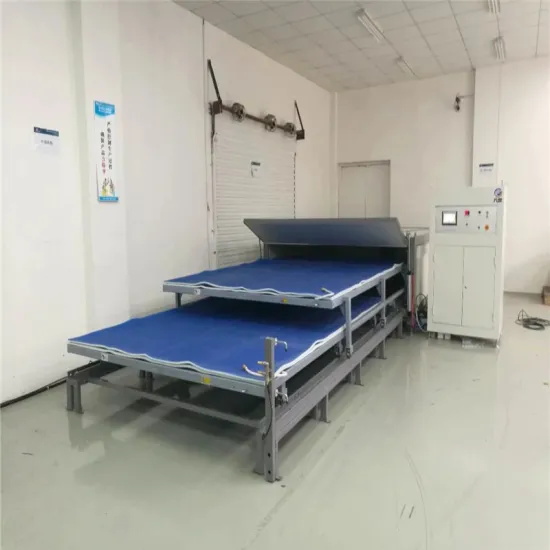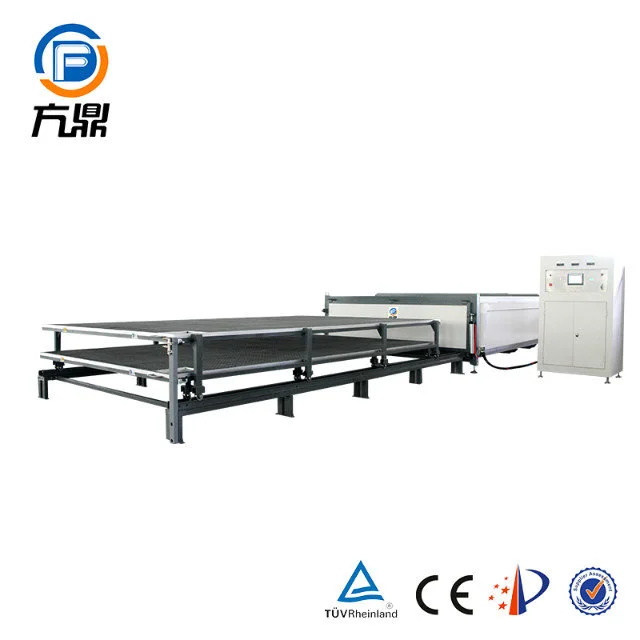 Heating Elements:
The heating elements are placed in  the furnace evenly and resonable.  The heating is provided with electric radiant heat and is evenly distrubuted with the assisstance of convection fan for very precise heating.  This setup will quickly reach the target temperature, the temperature difference is bellow 5 degrees, the heating is evenly, the laminate glass quality is excellent.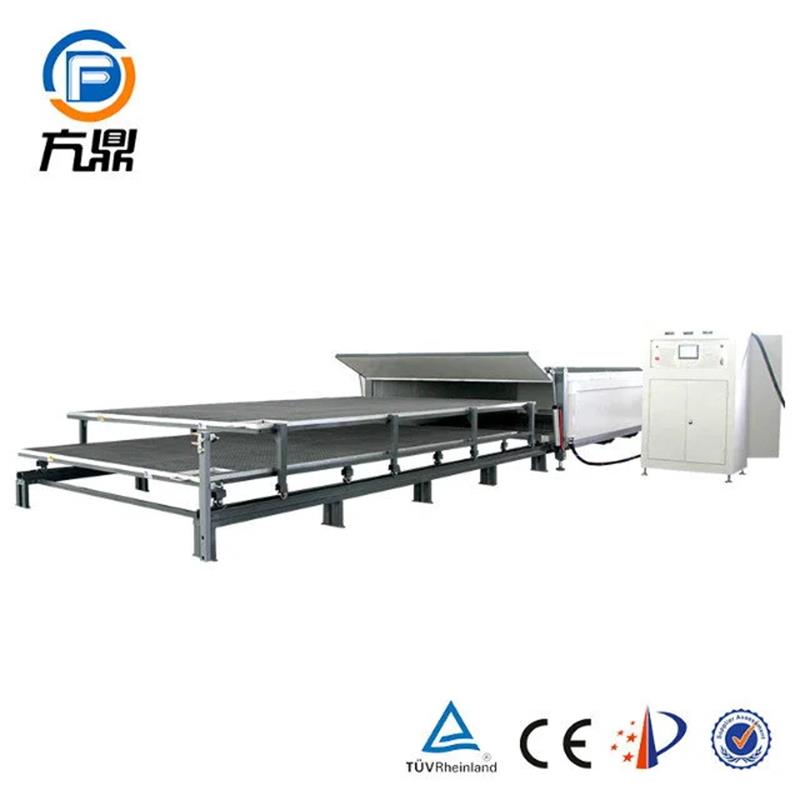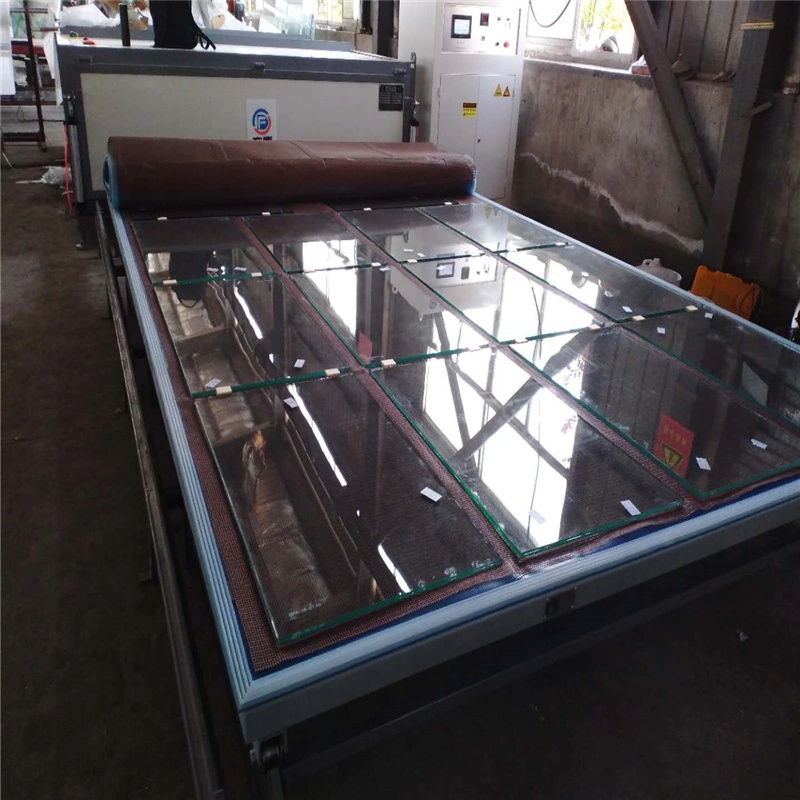 1. The entire equipment frame is welded with 8-10mm thick high-strength steel, and the inner and outer layers are filled with high-density integrated insulation materials.
2. The equipment heating system is developed by our company. The high-performance heating elements are reasonably distributed in the furnace. The unique temperature compensation design allows the heat generated to be evenly distributed to all parts of the insulation box. Multi-point temperature detection of thermal sensing elements, intelligent directional heating, and temperature difference control at 3-5 ° C. The design not only features uniform heating and rapid heating, but also has a long service life and is not easily damaged.
3.Vacuum system. Vacuum degree can be set in sections, pressure relief alarm, stable performance, with vacuum pressure holding, power failure protection and other functions.
4.The control system adopts a new humanized UI interface, which has a higher degree of automation, multi-functional computer control, and equipment status visualization throughout the process, adding fault alarms, regular maintenance tips, pressure relief alarms and other functions.
5.The glass carrier is composed of a deflection rail and a tray. A silicone bag is placed on the tray, and the glass is placed inside the silicone bag.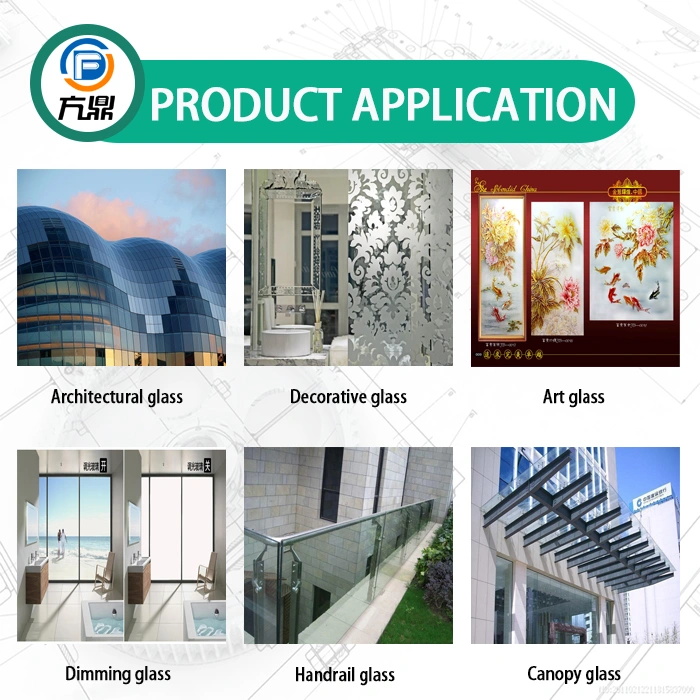 After-Sales Service:
Installation and technical training:
If the buyer needs the seller to install the machine and offering the technical training to the factory. The buyer need pay for
the sellers air ticket, hotel, food and so on the basic cost. Installation service is free.
Quality Warranty:12 months.(during the time, if any broken any spare parts, we will send for free, only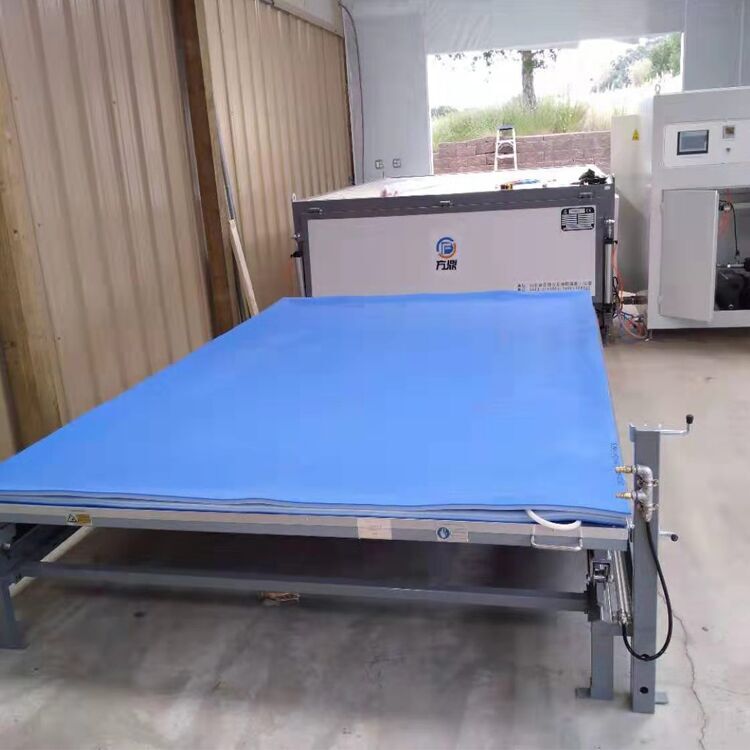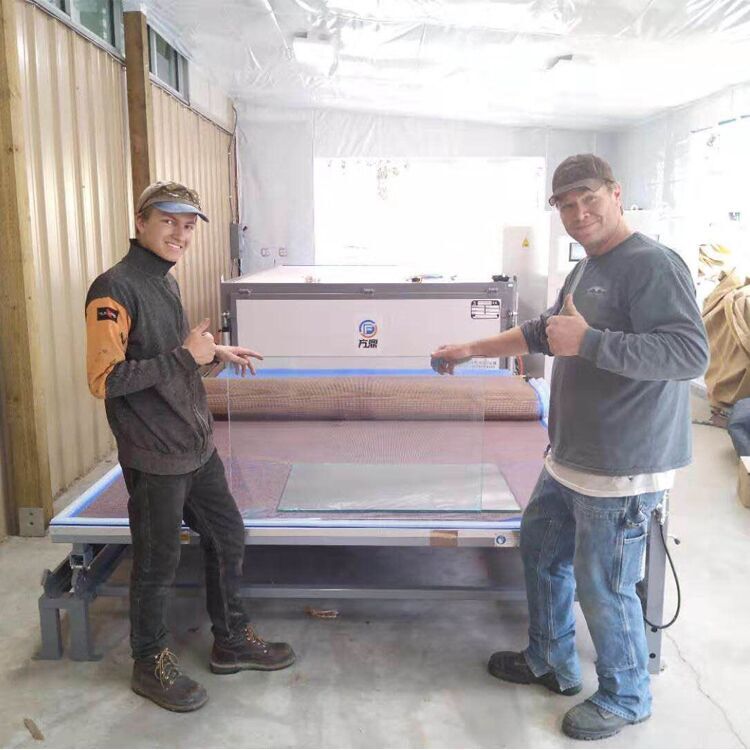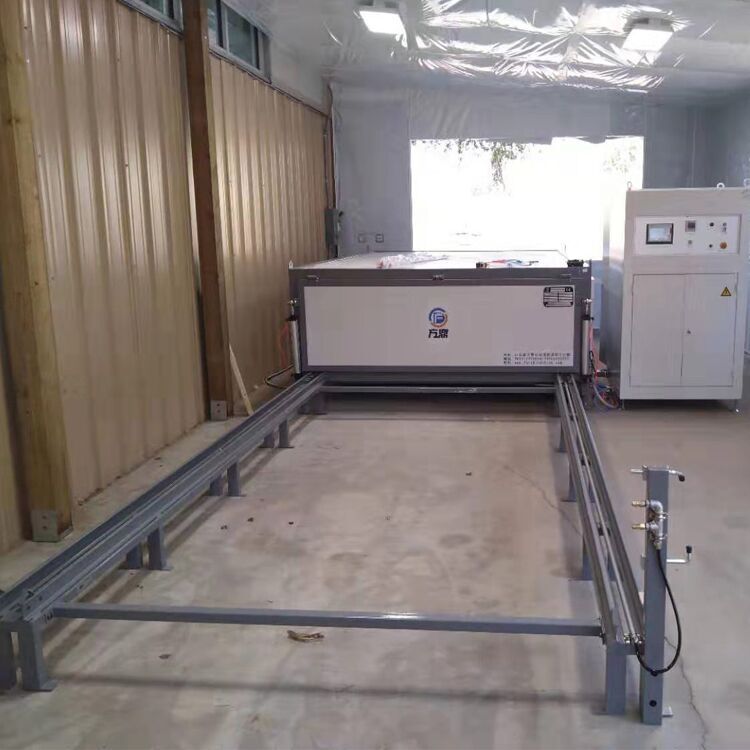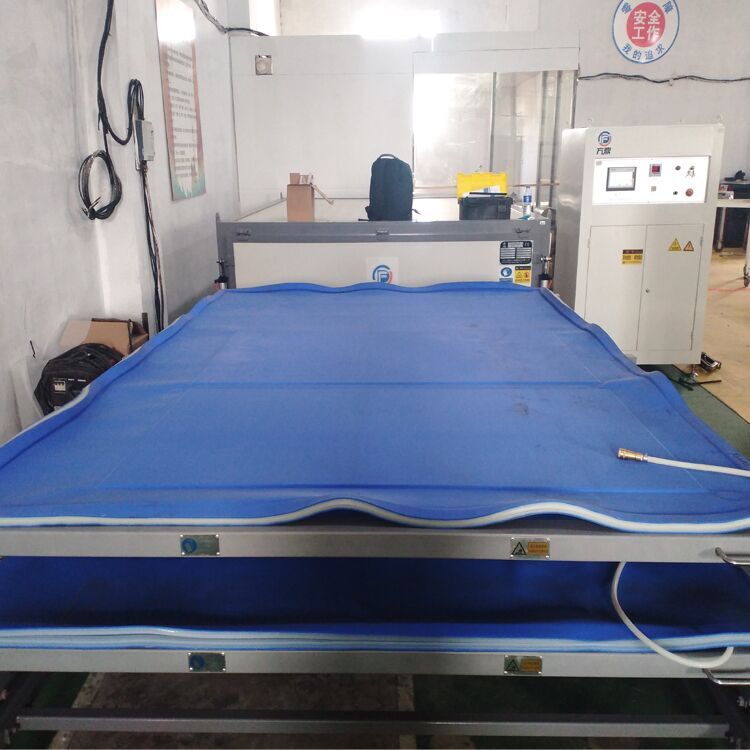 Shipping to Canada & USA & India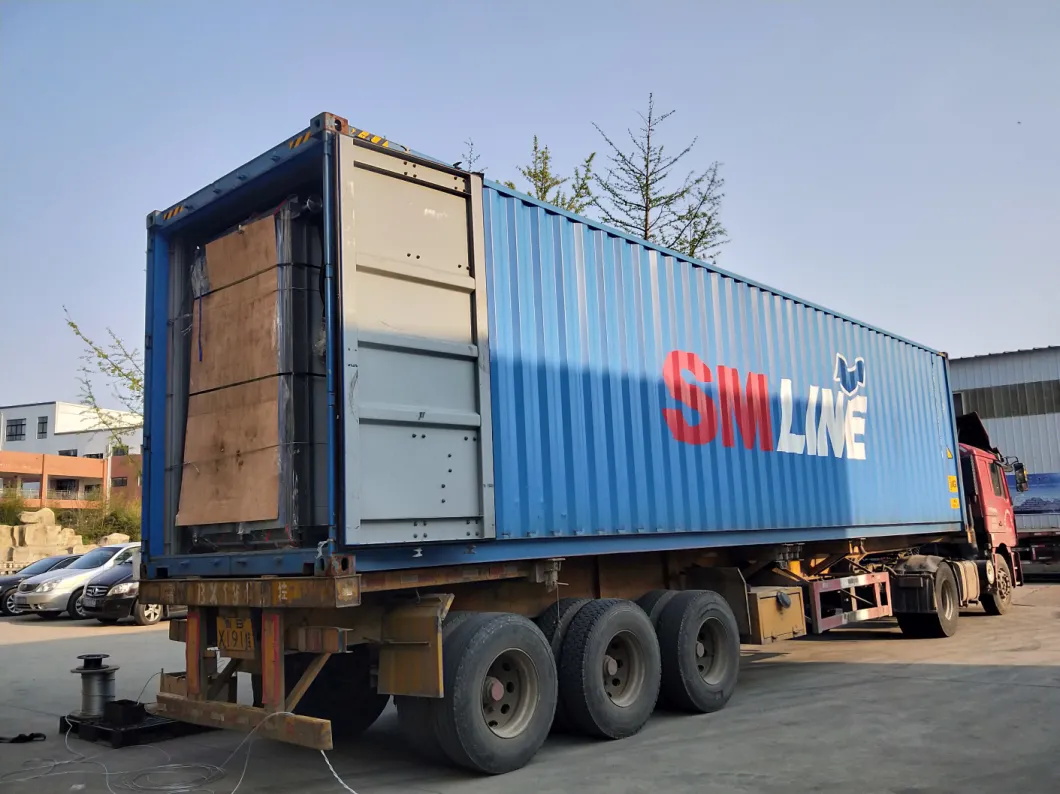 Machine main configeration
1)Siemens PLC control 
2)One heating rooms
3)Two plates/layers
4)One set vacuum systems
5) One set PLC system
5)One ground rail
6)Two sets vacuum bags
7)Teflon Mesh: 2 sets
Special desgin avaliable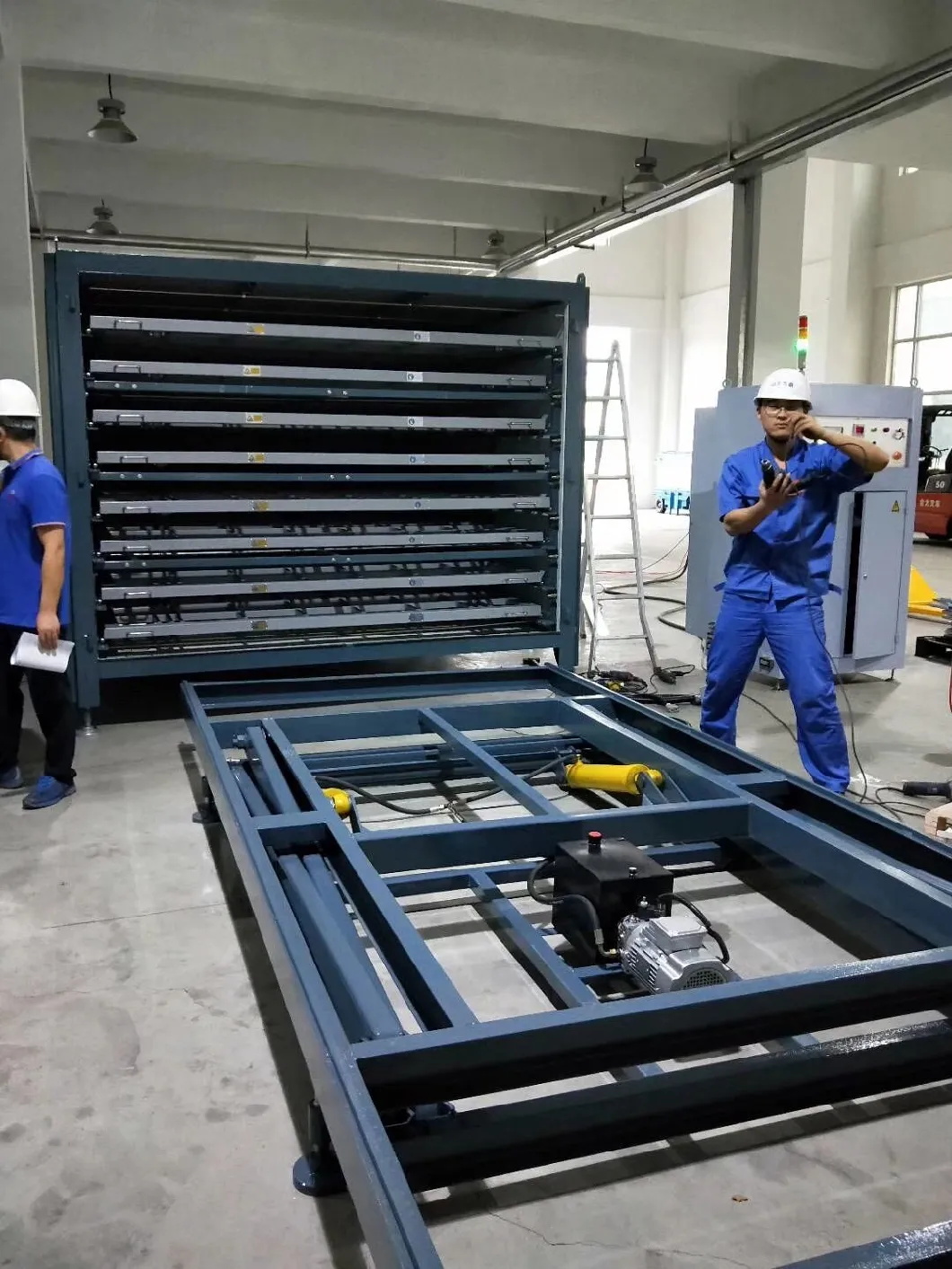 We are a leading manufacture in China with more than 18 years experience in glass laminated machine field. We have professional R&D and production team, if you have any special requirements, please contact with us freely. And warmly welcome you to visit us!
---
---